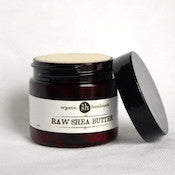 Soothing Herbals
Raw Shea Butter
Regular price
$ 16.00
$ 0.00
Unit price
per
Raw Shea Butter the ultimate moisturizer.  It's perfect for all your dry places – face, hands, belly, feet, cuticles, lips, legs, elbows…delightful! Makes a wonderful massage cream too.
Available in a 2oz or 4oz jar
INGREDIENTS: Certified Organic unrefined raw shea butter
We offer Unrefined Raw Shea Butter. It comes from the nuts of wild Shea trees scattered among the fields and forests of the wooded savanna in Africa. Shea butter contains an abundance of healing ingredients, including vitamins, minerals, proteins and a unique fatty acid profile, and is a superior active moisturizer. It is very dense and needs to melt in the palm of your hand before applying.
Unlike petroleum based moisturizers, shea butter actually restores the skin's natural elasticity. Shea butter also enables your skin to absorb moisture from the air, and as a result, it becomes softer and stays moisturized for longer. In addition, shea butter has natural sunscreen properties and anti-inflammatory agents.
It is most effective when applied to the skin in its pure state. Regular users of pure, unrefined shea butter notice softer, smoother, healthier skin. Shea butter has also been shown to help with skin conditions and ailments such as extreme dryness, eczema, dermatitis, skin allergies, fungal infections, blemishes, wrinkles, stretch marks, scars, scrapes, and more.
---