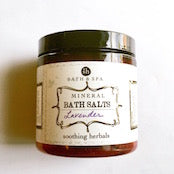 Soothing Herbals
Bath Salts
Regular price
$ 8.00
$ 0.00
Unit price
per
Soothing and relaxing mineral bath salt crystals help draw impurities from the skin. Made with pure, healing essential oils. Made fresh upon order.
Available in a 4oz, 8oz or 16oz jar. Scents include:
Custom~ inquire within
Muscle Ease~ rosemary, cypress, birch, ginger and eucalyptus for easing nerve & muscle tension and cramping.
Balancing~ lavender, geranium, sweet orange and frankincense for balancing energy and vitality.
Breathe Easy~ eucalyptus and lemon for clearing congestion from colds and flu.
Lovely Lavender~ A blend of French, Moldovian and premium Lavender essential oils.
Relaxing~  lavender, marjoram & chamomile essential oil to calm, soothe and relax.
Exotic~ lavender, bergamot & sandalwood make an uplifting exotic blend.
INGREDIENTS: Himalayan Pink Salt, epsom salt, essential oils.
About Himalayan Pink Salt:
HIMALAYAN PINK salt is a hand-harvested natural salt and known to be the cleanest and highest quality Himalayan salt available. In addition to it's fantastic taste, Himalayan Pink Salt provides many health benefits as well. It is important to know the source of the Himalayan salt you purchase. There are many lesser quality salts on the market. We get ours from SaltWorks. Here's what they have to say about it:
SaltWorks' Himalayan Pink salt is carefully screened. Only the best 10% of the salt is packaged for our gourmet grade. They import from an FDA registered manufacturer, so quality and authenticity is guaranteed. SaltWorks sources this Himalayan salt from an ethically and ecologically approved vendor.
Himalayan Pink salt is believed to be the purest form of salt available, and is known for its healing properties. For centuries, salts have been used as remedies for a variety of health issues. Stimulating circulation, soothing sore muscles, relaxing the body, lowering blood pressure and removing toxins, such as heavy metals, from the body are just a few of the many benefits.
Including this Jurassic-era salt in your life on a regular basis provides many health benefits, among those are respiratory health, sinus health, blood pressure regulation, bone strength, and an all over healthy PH balance. It can also help ease muscle cramps and regulate sleep. Removing toxins such and heavy metals  is one of the best benefits to the body. No wonder it's been the leading source of the Himalayan's trade currency for centuries!
---