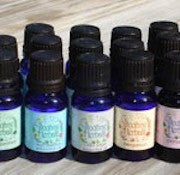 Soothing Herbals
Essential Oils
Regular price
$ 15.00
$ 0.00
Unit price
per
Now available by popular demand are individual bottles of essential oils. Never adulterated, these 100% pure essential oils are of the highest quality, organic and aromatherapy grade. We do not distill our own essential oils, but since we buy them in bulk, we are now offering them to you for personal use.
Put a few drops in your bath, on a pillow at bedtime, dilute in a carrier oil such as sweet almond or jojoba for massage, or even add a few drops to your diffuser or humidifier. There are so many ways the aromatherapy of essential oils can benefit your body, mind and soul.
There are 2 prices for the following 15ml bottles:
Top notes: $15
Eucalyptus, Grapefruit, Lavender, Lemon, Lemongrass, Sweet Orange, Palmarosa, Peppermint, Tangerine, Tea tree
Middle, Base notes: $18
Bergamot, Birch, Clary sage, Cypress, Geranium, Ginger, Patchouly, Vetiver
**NOTE: Please email your EO scent selection to: soothingherbals@gmail.com after placing your order.
---